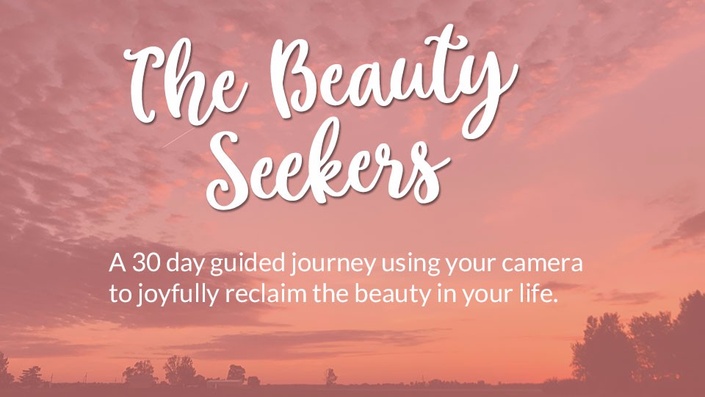 The Beauty Seekers
A 30 day Journey Into Witnessing the Beauty In Your Life Through Photography
A 30 Day Journey Into Witnessing The Beauty Of Your Life Through Photography
Create a joy-filled practice of seeking out beauty in your life using a camera as your guide. Over four weeks we will journey together seeking out the moments, people and places that fill our lives with meaning. Gratitude with every photo. Loving Focus in every moment.
The secret to a beautiful life is acknowledging the beauty that already exists and kindling the fire beneath the beauty that is waiting to be born.
Make Time To Slow Down
It's difficult to find the time to slow down and notice the things that make your life beautiful. Give yourself the space to breath deep and the time to look deeper. Isn't it time for a little self-care for your soul?
Find Inspiration
It's easy to miss out on much of life's beauty even with the best intentions. Using inspiration as your super-power can change everything. Inspiration can give us a sense of the boundless beauty that already exists and help us move our energy towards positive change.
Collecting Beauty One Moment At A Time
No need to get overwhelmed. A little time spent every day can make a huge difference in your life. Think of it as filling up your gratitude bank one penny at a time.
Seek out the beauty in your life and learn how to amplify it.
Become A Beauty Seeker
Use your camera as a tool to bring more joy-filled moments into your life.
Inspiration Every Day
Get inspired daily through curated articles, videos, music and more relating to that day's topic.
Photo Assignments To Stir The Soul
If you have trouble finding, let alone honoring the beauty in your life, following the guided photography assignments will help you reach into the depths of your life & retrieve beautiful moments.
Reflection Journal
Create a rhythm of reflecting through daily journal prompts designed to help you release, embrace, and learn.
Community
Join our private Facebook group for ongoing support even after the course ends. With membership you officially become a Beauty Seeker.
Supportive Encouragement & Feedback
Enjoy encouragement & feedback from both Kate as well as your classmates.
A Surprise For You
Complete the course in 30 days & I will send you a special surprise to help you remember your journey.
Why this Class is Different
Witnessing Not Documenting
Unlike other photography courses, The Beauty Seekers calls you to become a witness. You will use your camera as a tool to uncover beauty instead of simply documenting it.
Why this Class is Different
The Photograph is Only Part Of The Story
The course assignments are about the experience, not just the pictures you will take. You will first be inspired by writings, art, music, and more. You will then be guided to search your life for those sparkling moments and shining things that fill up your heart. The camera will be your guide, meant to assist you as you seek out beauty.
A Sampling Of What You'll Explore
The way wind & weather can transform an experience
How we see ourselves when we release shame and guilt
The secret joy that every day items bring to our lives
How sadness holds secret beauty & what it takes to see it clearly
The way light & shadow paints our days and small tips that will help us remember to look for them
How our ancestors reverberate through our lives, never really gone & possibly offering support when we need it
The happy consequences of getting lost and being forced to explore
How embracing cliches might find us the most beautiful moments of all
The many ways there are to define our self without actually revealing our faces
How our own fear can be a reflection of our bravery when we take the time to look closely
How movement is important to our body's and souls and how to capture it through photography
Sign Up To Be Notified When The Course Launches.
Enter your information below to get a notification when The Beauty Seekers course launches.
Your Instructor
Hey! I'm Kate and I help curious explorers find a space & place for their creativity through online courses and free activites on my site: www.iamsoulwild.com.
If you're familiar with Soul Wild, then you know I love facilitaing creative experiences. So much so that I'm committed to sharing new themes every 3 months and the tools & inspiration to help you explore them.

I love sharing what I've learned but even more I love helping others tap in to their own creative souls.

Frequently Asked Questions
When does the course start and finish?
Complete the course in 30 days or take as long as you need. The Beauty Seekers is a completely self-paced online course - you decide when you start and when you finish. If you would like to take part in the more guided experience sign up for email notifications on this page to be notified when a guided session begins..
How long do I have access to the course?
How does lifetime access sound? After enrolling, you have unlimited access to this course for as long as you like - across any and all devices you own.
What if I am unhappy with the course?
If you are unsatisfied with your purchase, contact me in the first 30 days and we will give you a full refund.
Do I need a fancy camera for this course?
Absolutely not! The goal of the course is to use your camera as a tool to explore. The finished product is just a bonus!
What's the surprise gift?
It's a surprise!!! Seriously, I can't tell you - but let's just say it's a beautiful way to be reminded to look for the beauty in your life. To get your surprise gift, you must complete the course in first 30 days.